[Usa /
Ipecac
, Exile on Mainstream, Deadverse]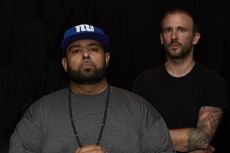 Dopo l'ultimo lp (l'ottimo "
Endangered Philosophies
", uscito nel 2017 sempre sull'Ipecac di Mike Patton) è in arrivo proprio in questi giorni un nuovo ep: si intitola "Respect to the authors" e lo pubblica la tedesca Exile On Mainstream.
"Before Def Jux, before Death Grips, before Yeezus, there was Dälek" (Noisey).
Pioneers of alt hip-hop, Dälek (pronounced "die-a-lek") features Rapper/Producer MC Dälek and Producer/Live Electronics Mike Manteca. With roots in the mid-90's DIY scene, Dälek has been delivering groundbreaking albums for over 20 years. They have encapsulated fans and critics across all genres, garnering fans and accolades from the Hip-Hop, Electronic, Indie, Metal, Shoegaze, Jazz and experimental communities. After releasing 7 studio albums, numerous collaborations, EP's, and remixes, they are known for their large body of work and pushing boundaries with every release. Their forthcoming release will be an EP (5 tracks) on Exile on Mainstream Records on April 5, 2019.
Ascolti:

LIVE:
27/07/19 Padova @ Curtarock

INFO, SOUND: